UPDATE courses are only for podiatrists who already have the F-Balance® PROFESSIONAL (PRO) certification.
In these times, traveling is not so easy, but the need to work and stay up-to-date is important in order to be present in the market.
The online UPDATE course modality is OPTIONAL. Alternatively, you can take a refresher course at an official F-Balance® Academy.
This way of keeping up to date allows you to obtain a star without the need to attend a classroom course.
A UPDATE course with a star keeps you up to date and active when it comes to the F-Balance® concept.
The stars show your level of experience.
If you reach the maximum number of stars, horse owners looking for an F-Balance® podiatrist will find you first in the search engine. An owner does not usually call a podiatrist with no or few stars.
You can obtain up to 4 stars online. However, star number 5 must be obtained at an in-person course taught by Daniel Anz or at an official F-Balance® Academy.
You will be awarded this certificate when you obtain the highest experience score as an F-Balance® PRO podiatrist.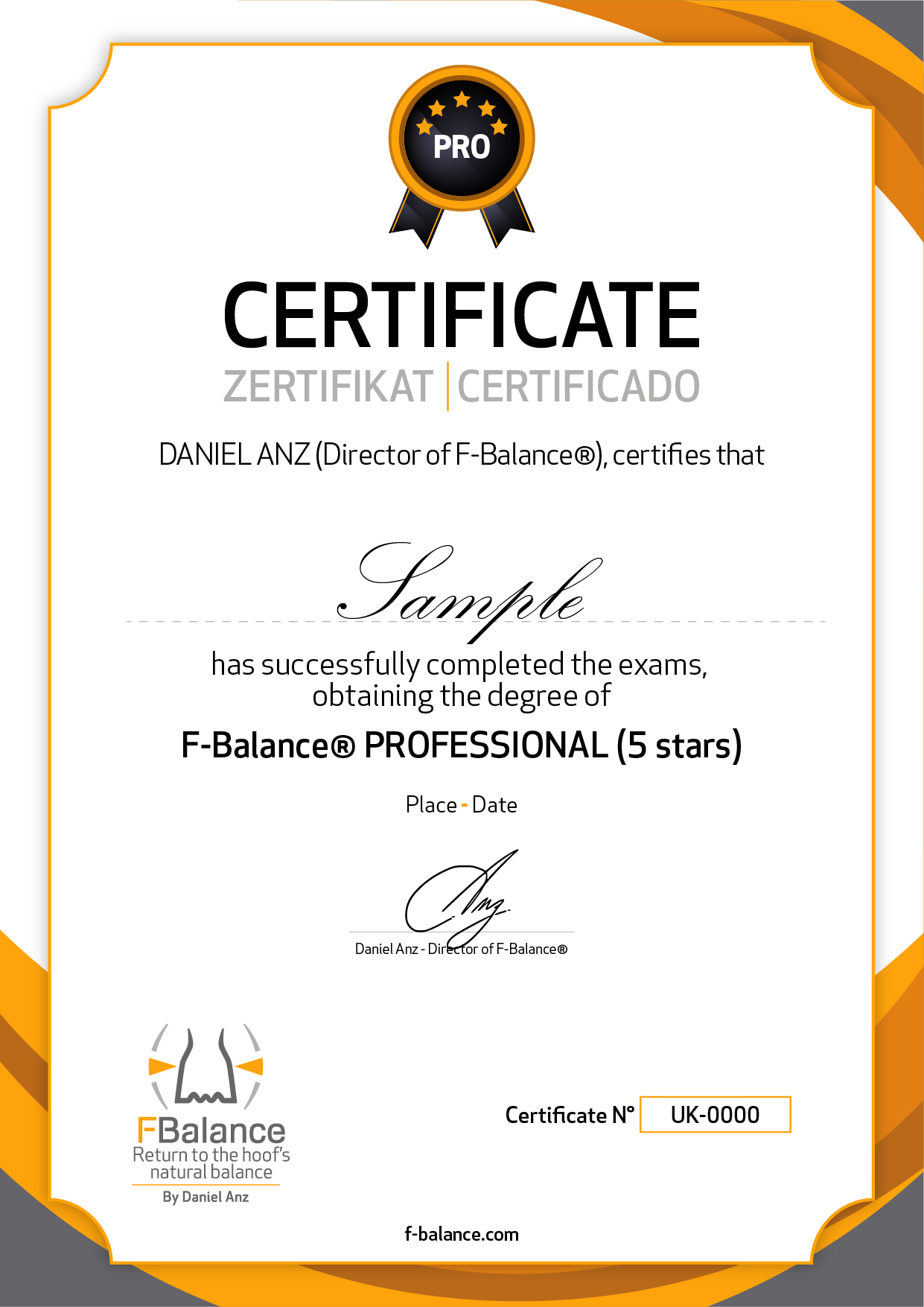 When you purchase the REFRESHER course reservation, you will access this panel and you will be ready to submit the registration form


Available in days

days after you enroll

INTRODUCTION - Read this first
Available in days

days after you enroll

Theoretical exam
Available in days

days after you enroll

Practical exam
FAQs
What is the difference between a UPDATE course and a REVALIDATION?
UPDATE courses allow you to obtain a star. The goal is for you to gain new knowledge and experience in applying the F-Balance® concept.
A REVALIDATION is a simpler update, which allows you to revalidate your personal data in the search engine of our F-Balance® website. The goal is to prove that you are still active in your profession and in the application of the F-Balance® concept.
Who assesses my theoretical exam?
You do it yourself! You must pass an online multiple-choice test with 100% correct answers. This is the first step you must take to begin the UPDATE course.
Who evaluates my practical exam?
Your practical exam will be evaluated by Daniel Anz.
What happens if I don't pass my practical exam?
If you do not pass the practical exam you must take the UPDATE course in person at an official F-Balance® Academy or at a course with Daniel Anz. You will not lose your money.
How often can I take an UPDATE course?
You are allowed to do an UPDATE course every 6 months. This gives you a chance to practice between updates.
What happens if I purchase two or more UPDATE
courses in a row?
You can purchase all 5 UPDATE courses in a row, but your practical work will only be evaluated once every 6 months.
Is it the same exam for each UPDATE ?
NO. Questions and answers may be randomly modified between exams.
Where should I send my practical work once finished?
You must send it to the email or WhatsApp number that you will see in the practice protocol after passing the theoretical exam.
Why can I only do 4 UPDATE courses online?
You must obtain the fifth star in person at an official F-Balance® Academy. This allows the MASTER to see possible errors that might be difficult to detect in photographs.
Do I receive a certificate at the end of the UPDATE courses?
Yes, you will receive a certificate of completion which will be given to you in paper format at the end of the course.
Is the payment really secure?
Yes, we work with the payment provider STRIPE which is part of the TEACHABLE platform. The order form is protected by SSL encryption and your data will be handled according to the relevant data protection conditions.
Here is how it goes...
Step 1: Click on the "Go to the purchase form" button.
Step 2: Enter your payment information in the secure SSL encrypted purchase form.
Step 3: You can start updating your knowledge immediately.
It's that simple!
So click the button below to join hundreds of new professionals and become the F-Balance® podiatrist with the most experience!
⇩⇩⇩

⭐️⭐️⭐️⭐️⭐️
Customer Rating
* In a few seconds you will be able to register for the Online UPDATE course *.
This is the price for an online UPDATE course with star. 
Credit card, PayPal, Apple Pay or Transfer payment. One-time fee.
100% secure checkout form - your privacy is guaranteed.
If you wish to make a bank transfer, please contact [email protected].

137.- US$
VAT included.
You just confirm your purchase in the form.
⇩