REVALIDATION is only open to podiatrists who are already F-Balance PROFESSIONAL certified.
More and more horse owners are requesting the service of F-Balance podiatrists.
We want those who are visible in our search engine to be professionals who are active in the trade, and can offer a quality service when trimming and shoeing hooves using this concept.
The In-person REVALIDATION mode is optional and allows you to prove that you are actively involved with the F-Balance concept, in a classroom course. Alternatively, you can revalidate your knowledge online.
If you wish to remain active and visible in our F-Balance podiatrist search engine, REVALIDATION is mandatory every two years.
After completing the necessary step to obtain the REVALIDATION, you will receive this certificate automatically. Subsequently, the head office will revalidate your personal file on the F-Balance website.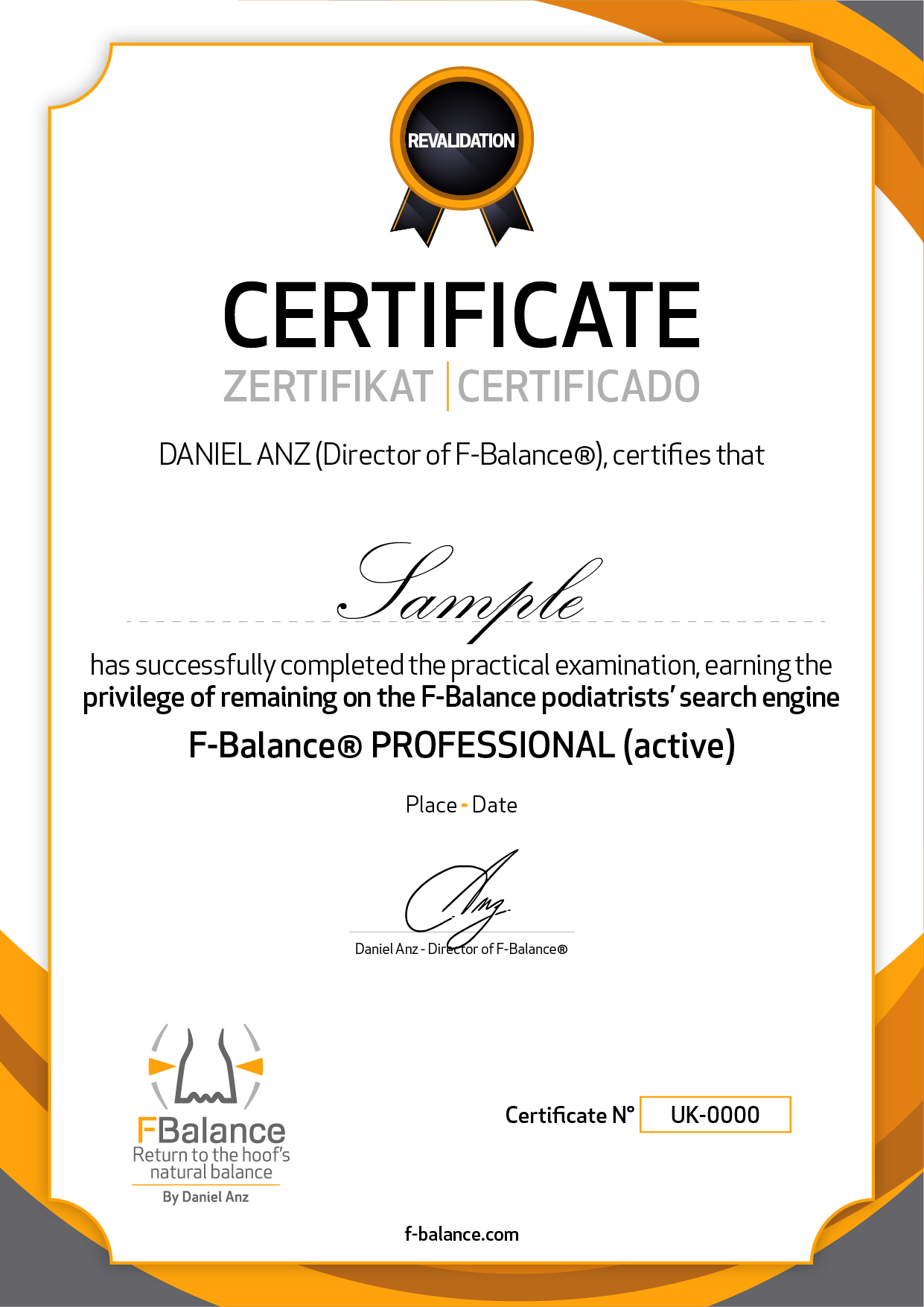 By purchasing the REVALIDATION you will access this panel and you will be ready to start the online course review.
Available in days

days after you enroll

In-person REVALITATION
FAQs
What is the difference between a REFRESHER course and a REVALIDATION?
UPDATE courses allow you to obtain a star. The goal is for you to gain new knowledge and experience in applying the F-Balance concept.
A REVALIDATION is a simpler update, which allows you to revalidate your personal data in the search engine of our F-Balance website. The goal is to prove that you are still active in your profession and in the application of the F-Balance concept.
Do I have to pass an exam to revalidate?
No. You only need to review the entire online course to update your theoretical knowledge.
Who must take the REVALIDATION?
All F-Balance podiatrists who have the PROFESSIONAL certification. Both those who do not have stars and those who have already reached 5 stars.
What happens if my personal profile has expired and I am not in the F-Balance search engine?
You can always take a revalidation course, even if you have been inactive for several years. When you revalidate, the head office will make your personal profile visible again in the F-Balance search engine.
Why should I buy the REVALIDATION?
Those who receive the PROFESSIONAL certification have the privilege of being included in our database, available to those who are looking for F-Balance podiatrists. It is not mandatory to be included in the database. We would like to offer this service free of charge, but the high technology it requires and the fixed monthly costs force us to ask those who wish to be included in the database to bear a small cost every two years.
Do I receive a certificate at the end of the REVALIDATION?
Yes, after reviewing the online course, you must confirm that you have reviewed everything and you will automatically receive a certificate of revalidation.
When will I be registered in the search engine?
When you confirm the revalidation, you must send the form with your updated data to the F-Balance headquarters. Subsequently, you will be registered in the F-Balance podiatrists search engine.
Is the payment really secure?
Yes, we work with the payment provider STRIPE which is part of the TEACHABLE platform. The order form is protected by SSL encryption and your data will be handled according to the relevant data protection conditions.
Here is how it goes...
Step 1: Click on the "Go to the purchase form" button.
Step 2: Enter your payment information in the secure SSL encrypted purchase form.
Step 3: You will then receive a confirmation email from us and you will be able to set your password to enter your exclusive online course section.
It's that simple!
So click the button below to join hundreds of new professionals and start applying the F-Balance concept!
⇩⇩⇩
⭐️⭐️⭐️⭐️⭐️
Customer Rating
* In a few seconds you will be able to start with the revalidation to secure your place in the search engine *.
The price covers a REVALIDATION that expires in two years.
Credit card or PayPal payment.
100% secure checkout form - your privacy is guaranteed.
17.- US$
Depending on your country, VAT may be added.
You just confirm your purchase in the form.
⇩
Doubts and Consultations:
We are here to help you. If you have any questions, please contact Daniel Anz directly at